Well with certain Gorillaz writers gone, I guess somebody has to tell the band's saga right?
I have returned, but don't expect constant updates, there may be long gaps between entries as I have many other projects going on (such as my band Room 13, check us out on Soundcloud...)
www.soundcloud.com/user-room13 (I'll leave this here)
Right, on with the show....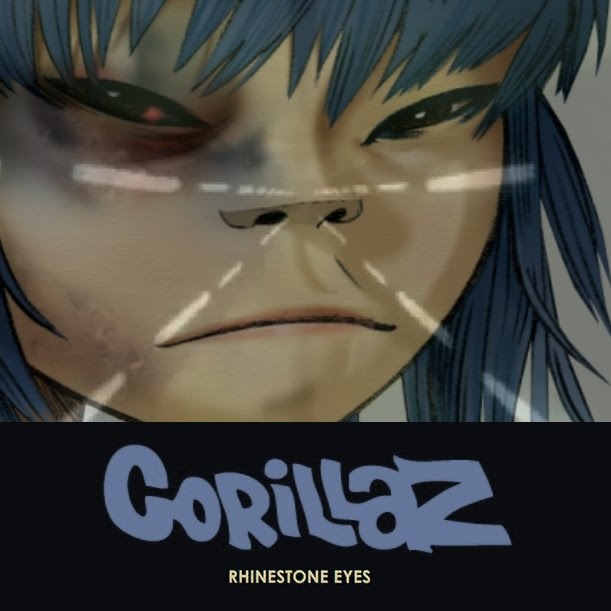 "It's not from your world, it's from my world. It's a new language."
- David Bowie
"Rhinestone Eyes" is a very noticeable beginning on the "Plastic Beach" record. Despite it being track 3, it is the first time we are hearing Damon's "2D" voice fully on the album. This is unusual for a Gorillaz album at this point in their discography, as in the past 2D has usually opened the album himself. However, on this record, the record was opened by orchestras, brass, Snoop Dogg, a full band arrangement, it's all fleshed out...but 2D is forced unto the background where he is covered in "vocoders" and "synth voice" settings. On track 2, he's not there at all (vocally at least). So finally on track 3, we get the expected Gorillaz opening track; dark, gloomy and tone setting for what horrible things are to come.
Now, don't get me wrong, I love both the opening tracks on this record, but it certainly was an unexpected twist to not have 2D right there with us at the beginning of this tale. So, in a way, these tracks make a triad of openers for the album. Snoop welcomes us into the story with "Welcome To The World Of The Plastic Beach", Bashy & Kano set up the introduction to guests being kidnapped by Murdoc to be on the album in "White Flag", and on "Rhinestone Eyes', 2D sets up the horrible tale that is to come on this record. For you see, "Plastic Beach" is at it's heart, a rock opera told in abstract fragments, a lot of it's story on record is communicated through moods and instrumental motifs (we'll get to those later). Jamie's art was supposed to make more sense of it, but unfortunately they ran out of money so what could have been the band's most epic phase, turned out to be one of their low points commercially (more on this in my previous "Electric Shock" entry).
Before we get to the lyric analysis (or will we? I'll get to that...), we must tackle the instrumental. This is a kick ass beat, it's so powerful it doesn't even really need a vocal chorus (although we do get one through the use of recycled Gorillaz elements in the form of the vocals from lost Phase 3 song, "Electric Shock") all it needs is that bass drop when Gorillaz veterans Jason Cox and Gabriel Mauris Wallace come in with some tight bass guitar & drum work. Of course Damon's synth melodies are what really sell this song (albeit somewhat overbearing, the bass is barely heard over the walls of synths Damon piles on the track), however my personal favorite texture is the acoustic guitar Damon uses to serve as a gentle counterpart to the very mechanical feeling the song gives. Also the drum programming on this track is really good, I never got why people complain about Damon's drum programming on this record because while it is often minimal, it often suits the track it is being used on.
Now it's a good thing that there was such a long gap between entries for this one, because recently Damon Albarn unveiled something that I always sort of suspected about Gorillaz. You see, "The Now Now" was the first Gorillaz record in a long while where he actually finished his lyrics. Most Gorillaz tracks are often ad libbed on the mic and very few are actually thoroughly written out, which is what give most of them that abstract and often muddled and confusing tone. So, then why do a song analysis in the first place? Do the songs even mean anything? Well, yes, ya see I have a theory. I don't think he was doing this as often on self titled and "Demon Days", I think after "Demon Days", Damon began to see Gorillaz differently. He began to see Gorillaz as an opportunity to get many different artists all in one room and make cool new sounds under the auspicious umbrella given by Jamie's characters. So, once Gorillaz shifted into this new form, Damon began to spend more time in the band as a producer and arranger as opposed to a lyricist (although things would seemingly go back to the way they once were in Phase 5, but we'll get to that), so he would often only write out a couple phrases (like the chorus) and often just sing his first impressions and thoughts into the mic. This creates a very sort of abstract and impressionistic tone quite similar to what David Bowie was doing during his Berlin Trilogy era, (the "New Language"). It's not what Damon is saying, it's the way he's saying it. It's the feeling you're getting from not only the notes from the instrumental, but the notes he is singing as well.
"But that's not good enough, you lazy bastard", you say, "what is Damon saying?" Well, he's complaining about machinery pretty much. Yep, this is another "Damon Albarn complaining about technology in our society" song. He's saying that genuine human connection is kind of gone amongst all this technology, love has become fleeting like "rhinestones", the fakest of all jewlery, in "factories far away". He's also singing as 2D, describing the chaos that surrounds him, pirates attacking the beach ("helicopters fly over the beach, same time every day, same routine"), guests being kidnapped, him being forced into a basement where he is being abused physically and mentally. Not only that, but half of the band is seemingly nowhere to be found and one of them is replaced by some kind of cyborg monster, "Nature's corrupted in factories far away". Really, the song is just trying to communicate that this is the fucked up world Gorillaz are in now through some of it's lyrics, but mainly through it's dark and synthetic beat.
The song has become a live staple for the band, and like many of the tracks in Phase 3 I would say it takes it's best form through the live shows. The bass is up way higher in the mix, making the chorus drop even more ferocious then it is on the record and on later live versions, Jeff Wootton's electric guitar doubles the lead synth line during the drop adding more darkness to the song's tones. Damon sounds even more scared and afraid then he does on the record and during the "Escape To Plastic Beach Tour", a string section is added on to the drop which was probably originally on the record before the record company asked Damon to take off a lot of the string tracks on this record (yea EMI really fucked them over this phase, lest we forget that this song was originally gonna have an epic video that would have concluded the phase by reuniting Russel and Noodle with the band after an epic battle with the phase's villains WHO WE WILL GET TO IN ANOTHER ENTRY). You can find just about any Gorillaz fan pumping their fist and singing along with this drop wherever it is being played, both in person and on record. "Rhinestone Eyes" is a diamond in the rough amongst an album full of tracks that can be described in the same manner.